SWAGGER MAGAZINE FEATURES ELEMENTS STUDIOS
The Inspiration
Elements Fitness Studios is the culmination of founder Lisa LaBanc's lifelong passion for fitness and entrepreneurship. Lisa has owned and operated multiple businesses in different industries for more than thirty years. It wasn't until 2018 that she pulled all her passions together and a strong and vibrant group of partners to form Elements Fitness Studios. Elements represents Lisa's belief and commitment to wellness and developing a healthy mind, body, and soul. To her, the belief in the Universe's law of attraction meant having a studio would be realized. The evolution of the idea to combine multiple elements, beyond just a yoga studio, was fostered by keen business acumen and creative minds. In the end, Elements Fitness Studios was more than a vision coming to fruition, it became a cutting-edge boutique fitness experience, unlike any other in the Midwest.
Earth, Water, Fire, And Air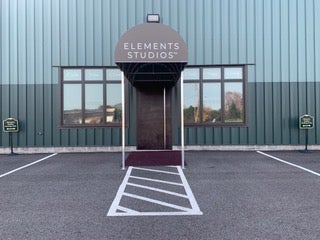 As the four elements work synergy in nature to create one united Universe, Elements Studios is the first of its kind in Ohio to bring together four studios in one destination space. The Elements studio offers flow yoga (water); hot yoga with radiant infrared heat and a Himalayan salt wall (fire); cycle with Stages Cycling indoor bikes (air); and, climb with Synergy Air Power Towers (earth), plus plenty of other offerings in one location. In total, Elements Fitness Studios offers more than 60 classes each week. During COVID-19, Elements remains committed to providing classes to our community. We have been offering free Instagram and Youtube classes and recently begun offering live and recorded Zoom classes to bring clients a hybrid offering of in-Studio virtual classes. Visit the Elements website for additional information and offerings.
Yoga
The Fire Studio is dedicated to hot yoga in many different styles. It features an infrared heating system and a Himalayan salt wall, both renowned for their detoxification and healing properties. The Water Studio is a relaxing sanctuary dedicated to more calming yoga styles, like yin and restorative. It is also the home of the Pilates classes. 
Cycle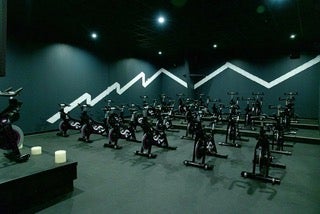 In the Air studio, you will be energized by our beat-driven rides as you clip into custom Stages indoor cycles. Experienced instructors lead you through dynamic rides as you groove to music on our state-of-the-art sound system and the light show that dances around you to the beat of the music.  
Climb
You will embark on one of the most intense and innovative 30-minute workouts around as you get grounded in our Earth studio. Elements proudly features Synergy Air's Power Tower climbers. These versatile climbing machines deliver a highly intense, total body, no impact, workout. 
Voice Yoga Teacher Training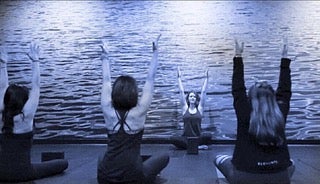 Elements also offers a 200-hour yoga teacher certification. The program VOICE was created to develop strength, clarity, and purpose as you find your "Voice" as a teacher. Voice Teacher Training will provide you with the means necessary to become a confident and empowering teacher. The program develops well-informed, authentic leaders who have the tools to create a clear path to success. Click Voice Yoga TT for more information.
Spa Services 
Elements offers Spa Services in our Relax room, where you can unwind and rejuvenate. Elements licensed and certified masseuse has a menu of offerings from a sports or deep tissue massage to tranquil therapeutic massage. Their Reiki master is a certified, accredited level 2 practitioner. Her healing energy will restore balance to your life. Reiki is known to reduce stress, improve mental clarity and emotional well-being, and improve physical health.
Retail Boutique | Juice Bar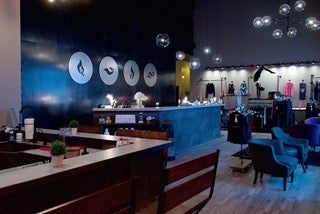 The Elements lobby features more than 1,000 square feet of retail space, offering designer brands of athletic apparel, accessories, and specialty items. Some brands include Lululemon, Alo, Beyond Yoga, Liforme, Mats RAD Rollers, and Tiki sandals. At the E-BAR, you can sit inside the café area and enjoy fresh-pressed juice, energy elixirs, and more. Elements is currently building a patio outside where people will be able to enjoy coffee, snacks, juices, and smoothies.
Corporate And Private Rentals
Elements Studio is a unique space that can accommodate a variety of private rentals. An event coordinator assists clients in planning their corporate or private events. Elements offers a menu of rental packages or a la carte services to create a custom experience. 
Elements Fitness Studios' mission is to ignite and unify the community through the power of yoga, cycling and climbing inside the Studio and beyond. Check them out online, in the virtual Studio, or the next time you are in the Cleveland area.  
For more information see links below and follow Elements Studio on their social channels.